Monica Mudge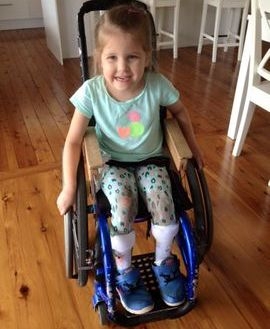 Monica Mudge
Myself and three other incredible women will be taking part in the Great Illawarra 40km walk to help support beautiful local girl Holly Burns and her incredibly amazing family who are currently fighting a massive battle.
Holly is one of the most precious, gorgeous little girls you could ever meet.
She is only 6 years old and has tragically been diagnosed with an extremely rare and aggressive form of degenerative brain disease called Vanishing White Matter Leukodystrophy and is terminal.
There is no known cure or even treatment to slow down its progression, but they are getting closer and they need our help.
Although hard to predict, Holly is expected to live only a few short years. Let's help this family in their fight and hope for Holly.
---
Recent Activity

Tracy Holt
09 FEB 2019
$50.00 Donated

Simone Scott
04 FEB 2019
Have fun walking
$50.00 Donated

Jo Wyatt
03 FEB 2019
$20.00 Donated

Valeria Miassoedova
03 FEB 2019
$20.00 Donated

Patti Bartlett
03 FEB 2019
All the best to Holly and her family
$20.00 Donated

Miffy Stephen
03 FEB 2019
Good luck Mon - another great initiative
$30.00 Donated

Lyn Honan
03 FEB 2019
$20.00 Donated

Melissa Buhagiar
02 FEB 2019
Good luck Moni, you always give yourself so selflessly, I am in awe of you xxxx
$40.00 Donated

Cath Thistleton
02 FEB 2019
Great job as always Mon and good luck to Miss Holly 💗🌈🌟
$50.00 Donated

Margy Reed
02 FEB 2019
$40.00 Donated