BENDIGO BANK PLEDGE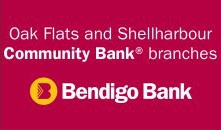 Bendigo Bank (Oak Flats and Shellharbour) have pledged up to $10,000 to be donated to the Great Illawarra Walk for 2020.
They will match dollar for dollar any donation made over $1,000 by any business or over $500 by any individual.
Please get on board now with your donations and help to make sure that we secure the full $10,000 from the Bendigo Bank.
So far the following businesses have kindly made a large donation:
SWA Financial Planning: $3,900
ANONYMOUS: $2,500
Bean Roasted Espresso Bars: $1,000
Tracey Ingram-Marczan: $1,020
Steve's Joinery: $1,000
Meneke Dalton Occupational Therapy Services: $1,000
Project Coordination Australia Pty Ltd: $550
---
MAJOR PRIZE ANNOUNCEMENT
This year we have a major prize up for grabs for the first time ever!

Delta Air Lines has given us 2 x Premium Economy tickets on Delta Air Lines from Sydney to any point in the USA or Canada that Delta flies to. So of course we decided to share the love and give these tickets away to one lucky walker!

And the best news - any walker can go in the running to win this awesome prize.

For every $100 raised, you will get one ticket into the major prize draw.

But wait, it gets better....

If you raise $500, you will get TEN tickets into the major prize draw.

This prize is valued at more than $8,000, and every cent raised goes directly towards vital research into Vanishing White Matter Disease, so we are truly grateful and excited about this new partnership for the Great Illawarra Walk. Donations and sponsorship can be made directly through the website under the 'donate' tab.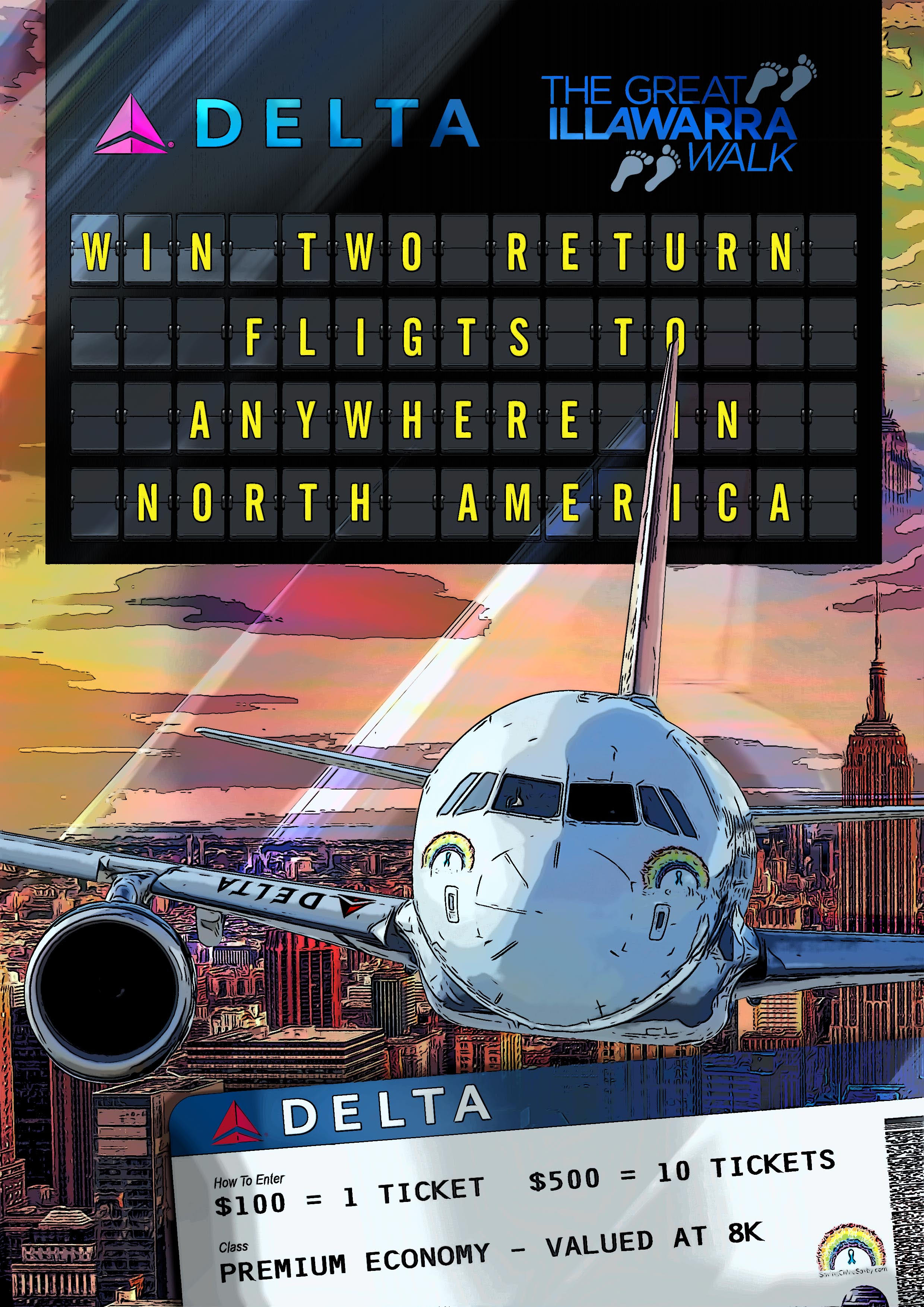 Download the 2021 Great Illawarra Walk Poster below and share it on your social media/office/workplace!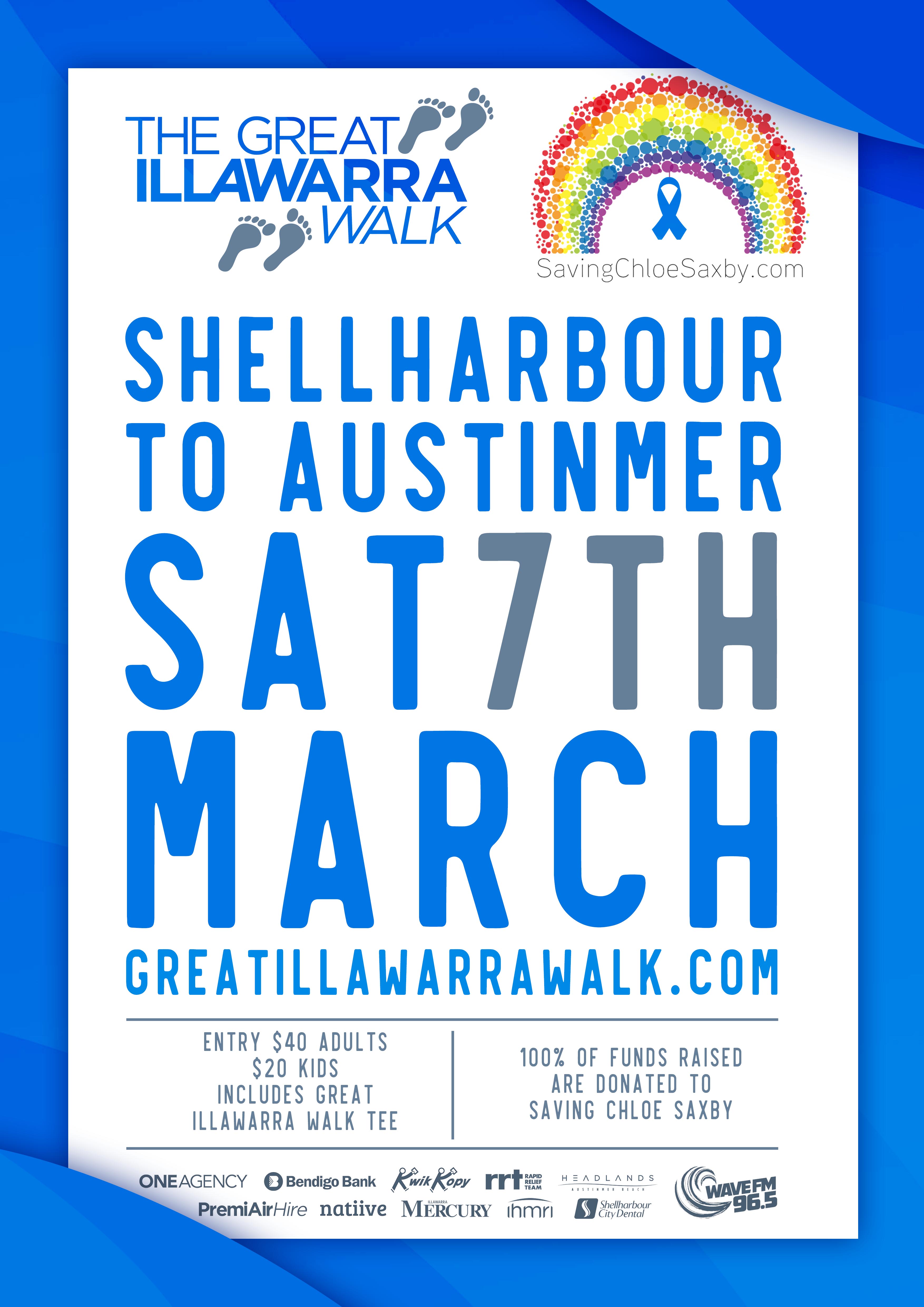 Saturday 13 March, 40km from Shellharbour to Austinmer
WHERE DO WE WALK?
The 2021 Great Illawarra Walk begins at Bean Roasted Espresso Bar Shellharbour (Addison Street) at 7am on Saturday 13 March and finishes at Headlands Hotel Austinmer.
Check out the route section of the website for a full breakdown of the walk route.
Great Illawarra Walk - Route Overview
Depart Shellharbour Village 7am – Bean Roasted Espresso Bar, Addison Street
Depart Warrawong 9am – Wave FM, Hoskins Street
Depart Wollongong 11:30am – One Agency Property Division, 103 Kiera Street
Depart Fairy Meadow 12pm – One Agency Property Division, 19 Princes Highway
Arrive Headlands Hotel Austinmer between 2pm and 5pm
FREE FOOD AND WATER ALONG THE WAY
The Rapid Relief Team are on board once again and will be supplying free food and drink to all walkers.
The team will be stationed at Windang and Corrimal, serving a full spread of coffee, tea, cold drinks, snacks, fruit, sandwiches and burgers.

One Agency Property Division will once again be providing regular water stops along the way - although it's still a good idea to have a drink bottle with you to stay well hydrated.
Headlands Hotel Austinmer - The After Party
Join us for an end of walk celebration at the Headlands.
The walk finishes at Headlands Hotel Austinmer, with a finale party from 2pm-6pm. Most walkers are expected to arrive early afternoon - plenty of time to soak up the atmosphere and enjoy a beverage (or two!).
Headlands Hotel Austinmer have kindly offered us a huge space for the afternoon so come and enjoy live entertainment from 2pm and complimentary finger food from 4pm.
WALK T-SHIRTS AVAILABLE FOR COLLECTION
Great Illawarra Walk t-shirts are available for collection during business hours from One Agency Real Estate (Corrimal and Warilla). We will also have shirts available for collection at Bean Roasted (the start line) the morning of the walk.
Join the The Great Illawarra Walk in 2021!
The Great Illawarra Walk is once again calling on Illawarra residents to don their walking shoes for the annual Great Illawarra Walk on Saturday 13 March, this year raising money for research into Vanishing White Matter Disease and supporting local girl Chloe Saxby.
Chloe Saxby and Holly Burns are two little girls from the Illawarra and South Coast region who were diagnosed with an extremely rare and degenerative brain disease - Vanishing White Matter Disease - for which there is no cure or treatment available.
It was recently announced that - thanks to the Great Illawarra Walk - Australian-first research into Vanishing White Matter Disease will take place at the Illawarra Health and Medical Research Institute (IHMRI), with researchers using advanced methods in stem cell research to try to find a potential cure for Chloe.
While IHMRI has committed to the initial seed funding, additional funds are desperately needed to continue the research.
The Great Illawarra Walk, now in its thirteenth year, is donating all monies raised from the 2021 event to this worthy cause.
The event runs over one day, with participants walking up to 40km across the Illawarra. Participants can choose to walk any distance between Shellharbour and Austinmer.
---
Latest News