WALK T-SHIRTS NOW AVAILABLE FOR COLLECTION
Great Illawarra Walk t-shirts are now available for collection during business hours from One Agency Real Estate (Corrimal and Warilla).
LISA TRUJILLO BOOT CAMP SUNDAY 24 FEBRUARY
Lisa Trujillo will be hosting a Great Illawarra Walk boot camp this Sunday 24 February at The Farm (Killalea State Park, Shell Cove).
All money raised from the boot camp will go directly to the walk. All ages and fitness levels are welcome to join in the fun!
The cost of the boot camp is $10, click here to secure your place.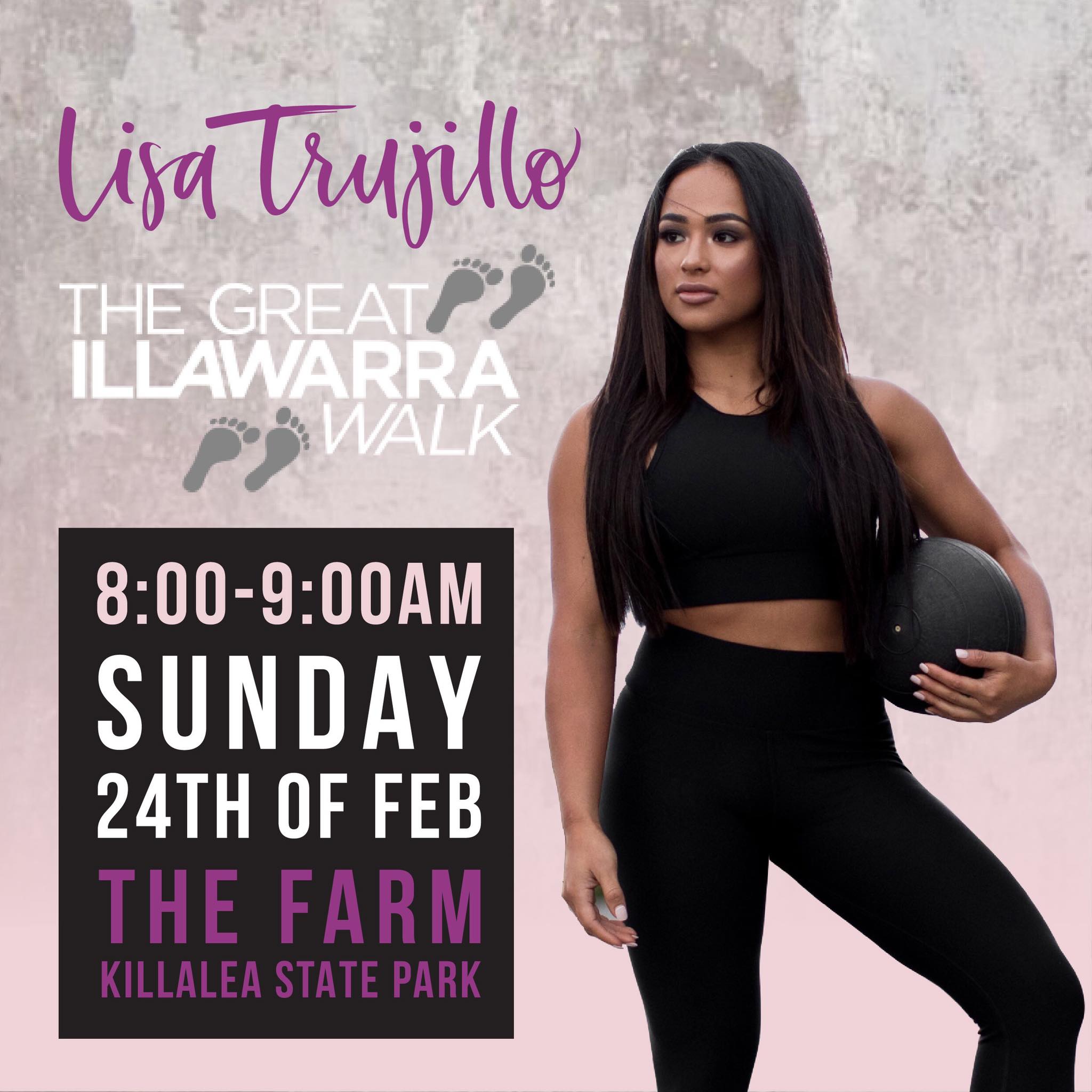 SECOND START LINE - WOLLONGONG TO AUSTINMER LEG
For those of you who aren't keen to tackle the full distance, we will have a second start line in Wollongong.
Walkers will depart One Agency Wollongong (103 Keira Street, Wollongong, opposite Amigos Mexican Restaurant) at 11.30am on Saturday 2 March.
BENDIGO BANK LOCAL BUSINESS SPONSORSHIP
Our friends at Bendigo Oak Flats & Shellharbour Community Bank Branches have offered to match any $1,000 donation from a local business to this year's walk (up to the value of $10,000).
This is a huge amount of support from our local bank and we would love to see some local businesses get on board!
Give Chris a call on 0414335769 if you'd like to get involved.
Join the The Great Illawarra Walk in 2019!
The Great Illawarra Walk is once again calling on Illawarra residents to don their walking shoes for the annual Great Illawarra Walk on Saturday 2 March, this year raising money for research into Vanishing White Matter Disease and supporting local girl Chloe Saxby.
Chloe Saxby is a 10-year-old girl from the Illawarra who was diagnosed five years ago with an extremely rare and degenerative brain disease - Vanishing White Matter Disease - for which there is no cure or treatment available.
It was recently announced that Australian-first research into Vanishing White Matter Disease will take place at the Illawarra Health and Medical Research Institute (IHMRI), with researchers using advanced methods in stem cell research to try to find a potential cure for Chloe.
While IHMRI has committed to the initial seed funding, additional funds are desperately needed to continue the research.
The Great Illawarra Walk, now in its twelfth year, is donating all monies raised from the 2019 event to this worthy cause.
The event runs over one day, with participants walking up to 40km across the Illawarra. Participants can choose to walk any distance between Shellharbour and Austinmer.

Download the 2019 Great Illawarra Walk poster here and feel free to share it around!
---
Latest News